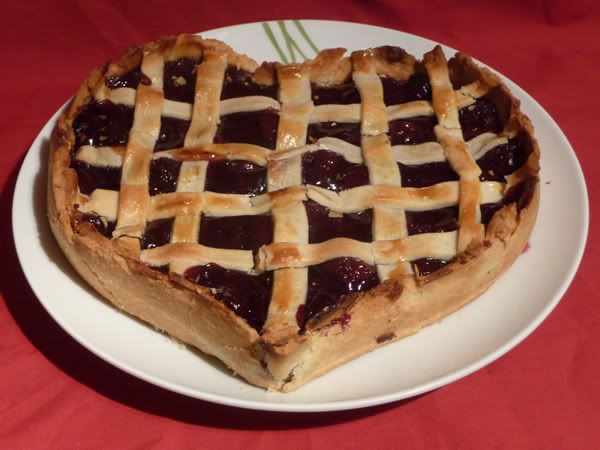 I do LOVE pie.
It's been a while - far far too long since I last made cherry pie. The longing took over, and as fresh cherries are not currently in season or readily available - I decided to make one with tinned cherries in my lovely
heart shaped silicone mould
.
This was actually very easy to do - especially as I cheated and used pre-made sweet / dessert shortcrust pastry.
First of all - line the
mould
with pastry and grease proof paper. Fill with baking beans (or dried rice) and blind bake for 10 to 15 minutes.
Recipe for Filling
2 cans of stoned cherries
juice of the cherries
4 tablespoons of corn flour
2 teaspoons of cinnamon
6 tablespoons of granulated sugar
Mix cornflour and cinnamon with a little cold water. Add in a small small saucepan along with the sugar and juice from the tinned cherries.
Bring up to a simmer (stirring constantly) until mixture is of a thick consistency - similar to wallpaper paste.
Put the cherries into the pastry case and pour filling on top.
Top with pastry (either lattice or full pastry lid) and bake at 200deg C for approx 20 mins.
Allow to cool before turning out.
Sarah-Jane Nash, SiliconeMoulds.com - flexible silicone bakeware. April 2010